Description
✂️ Trim And Cut Plants 🌱 With This Amazing Garden Pruning Shears!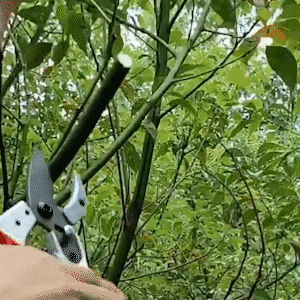 Prune plants, flowers, branches and more. Quality and best price on pruning shears you are looking for. Professional Hand Scissors.
It is versatile, as it will allow you to cut flower stems, branches, clusters and flowers. It has an ergonomic handle, so it adapts to the anatomy of your hand.

A professional and reliable sharpening, it requires less energy while you enjoy your gardening. Suitable for professional flower arrangements, delicate flower branches.

Technical Features:
PROFESSIONAL DESIGN - Our pruning shears are durable and lightweight, featuring high-quality, ultra-sharp stainless steel blades and an ergonomic, soft-touch handle for long-term comfort.
Ergonomic handle: the handle is made of non-slip PP material for durability and smoothness; the ergonomic handle is padded for easy portability, lightweight, and comfortable grip; The delicate appearance will make the cut look very practical and elegant.
Easy to Maintain - The scissors are very easy to clean and maintain. After each use, the blades and mud on the scissors can be cleaned with a cloth dampened with a small amount of oil and a little machine oil applied to the surface to maintain the cut. Bright and sharp. Please do not put it in a humid environment.
This type of scissors is very suitable for flower arrangements. It is used to cut flowers, ribbons, paper, preserved flowers, etc.
SUITABLE FOR ALL KINDS OF GARDENING - These pruning shears are a must-have for hobbyists or commercial farmers. They care about the quality of the products and prefer to cut the plants by hand. In the process of trimming stems, roots, or flowers, we think these scissors can get the job done.
Rootstock and scion it is easy to match the U-cut, V-cut, or Ω-cut, rapid healing

Using easily and fastly. Grafting method than the traditional savings the time and effort

Use the pruner to cut useless branches from the plant
Note:
Keep out of reach of children

Do not use on the dry or old hard wood
Package Contents: